When Is The Rexburg Solar Eclipse?
On Aug 21, 2017 at 11:33am a rare solar eclipse will pass over Rexburg.  The sun will be completely covered for 2 minutes and 17 seconds.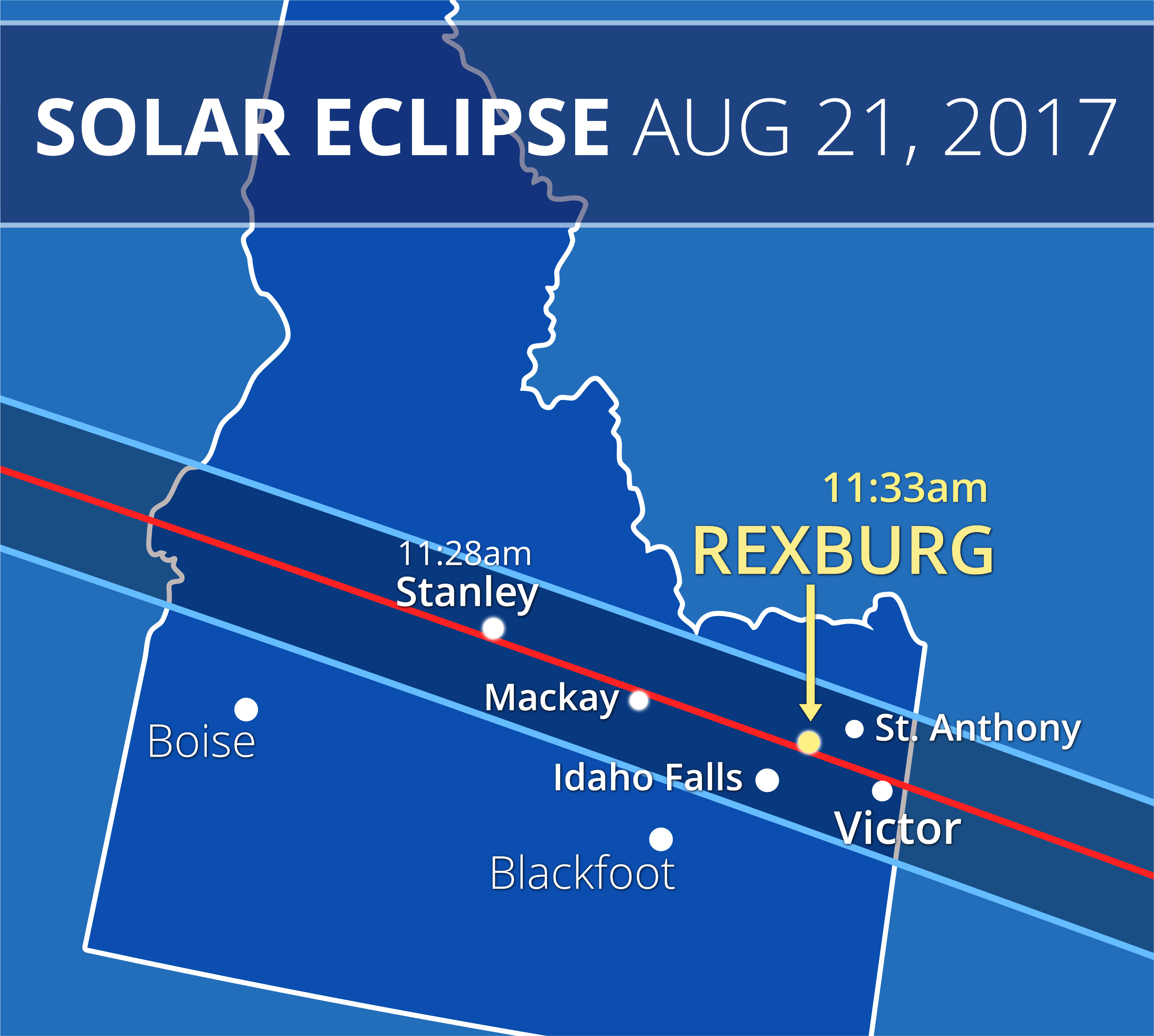 Where Is The Best Place To View The Solar Eclipse?
We've create the above map to help you visualize where you can see where the eclipse.
Any city within the dark band can see the eclipse.  However cities closer to to the center line will see it longer.  For example Idaho Falls will also see the eclipse, but it will last only 1 minute and 49 seconds while Rexburg will see if for 2 minutes and 17 seconds.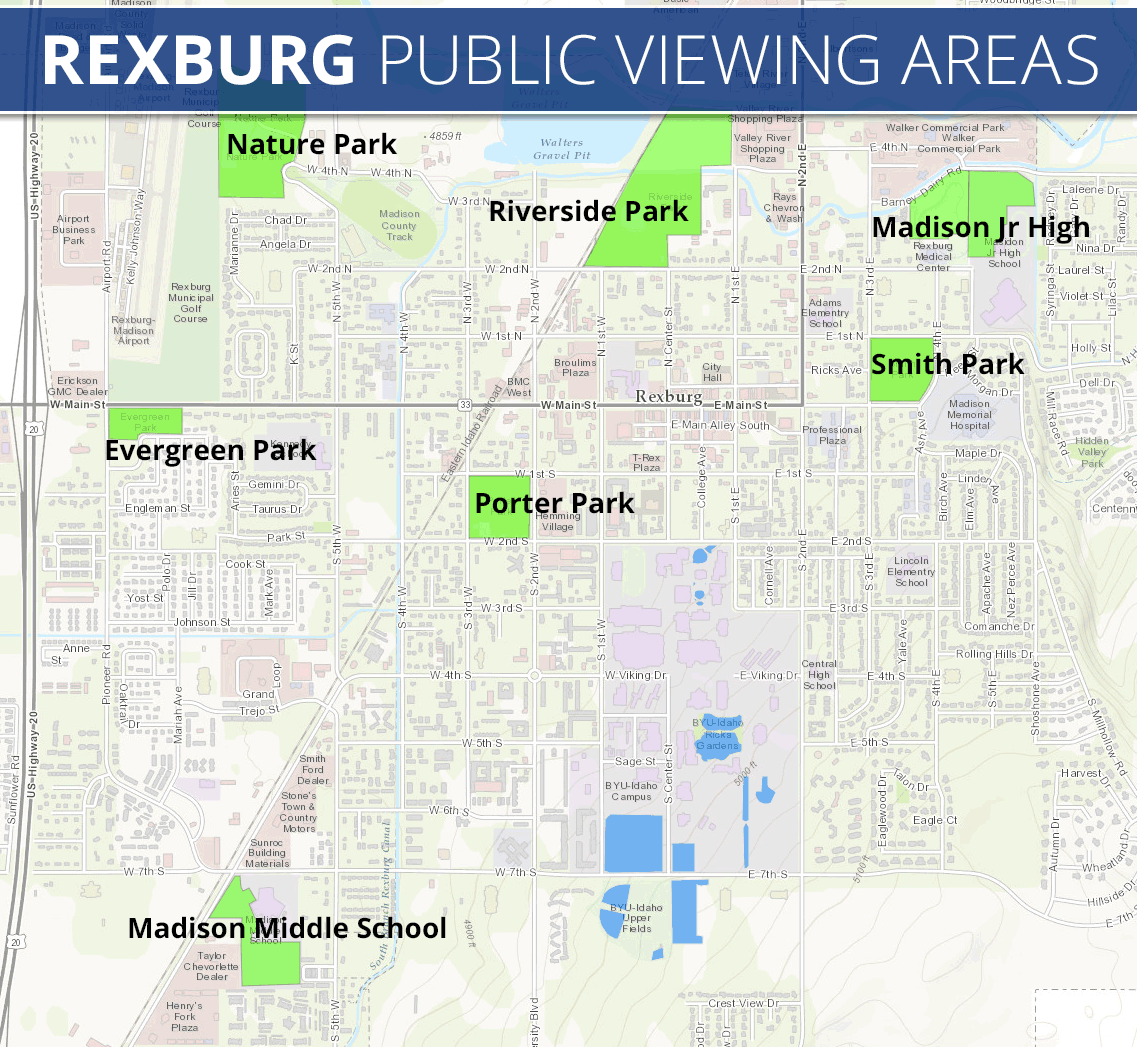 The absolute center-line will be just south of Rexburg.   However, the centerline will only see the eclipse for about 2 seconds longer than inside Rexburg.  See an interactive Google map here.
The Great American Eclipse
This eclipse has been called "The Great American Eclipse" as it will pass over a large swath of states from Oregon to South Carolina.   However, the actual band of shadow is pretty narrow.  As such, cities along the eclipse path are expected to see an influx of visitors.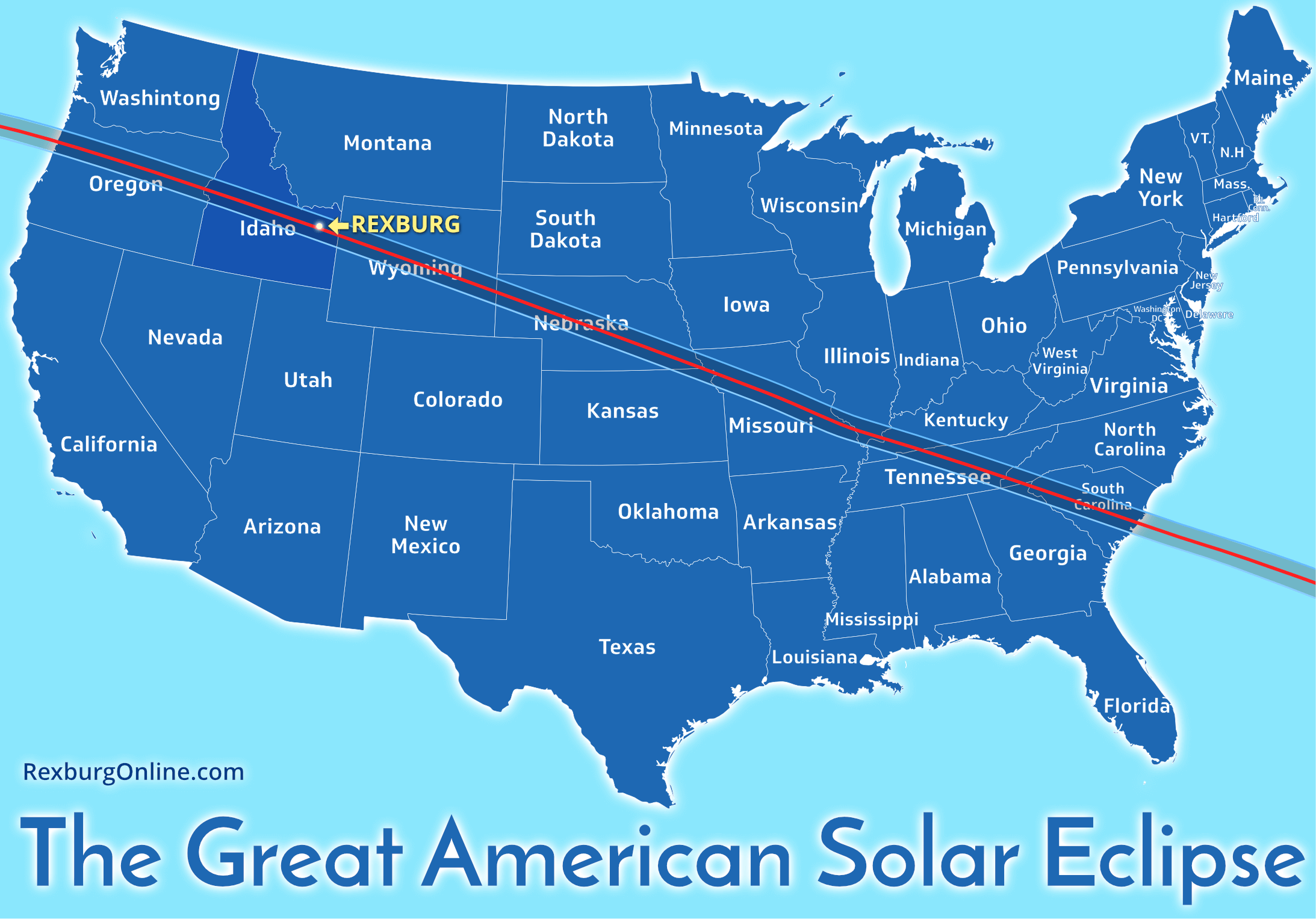 Thousands of People Coming To Rexburg
It's been estimated that as much as 20,000 people are expected to view the eclipse from Rexburg.  It's further estimated that as much as 500,000 people may flock to eastern Idaho to catch a view of the eclipse.  Idaho is an especially popular spot because of the high likelihood of cloudless skies, as August is usually a dry time in here.
The city of Rexburg has been making preparations in anticipation of the extra visitors.  They've allotted a generous budget for additional police and emergency services, portable restrooms and solar glasses for city staff.  However, the rest of us will need to get our own solar glasses.
Rexburg Temporarily Lifts ban on Short-term Rentals (like Airbnb)
On March 15 the Rexburg City Council passed a resolution allowing individuals to rent out spare rooms and such during the time around the eclipse.
Camping
While all of the BLM campsites are booked and most hotels are booked as well, you could spread the eclipse into a multi-day camping trip. One of the best ways to camp is on BLM land. Nearly 1/4 of the state is BLM land, and is undeveloped. Camping is free! But, make sure to plan for a great spot. There is also a guide on camping in undeveloped land.
Fire Prevention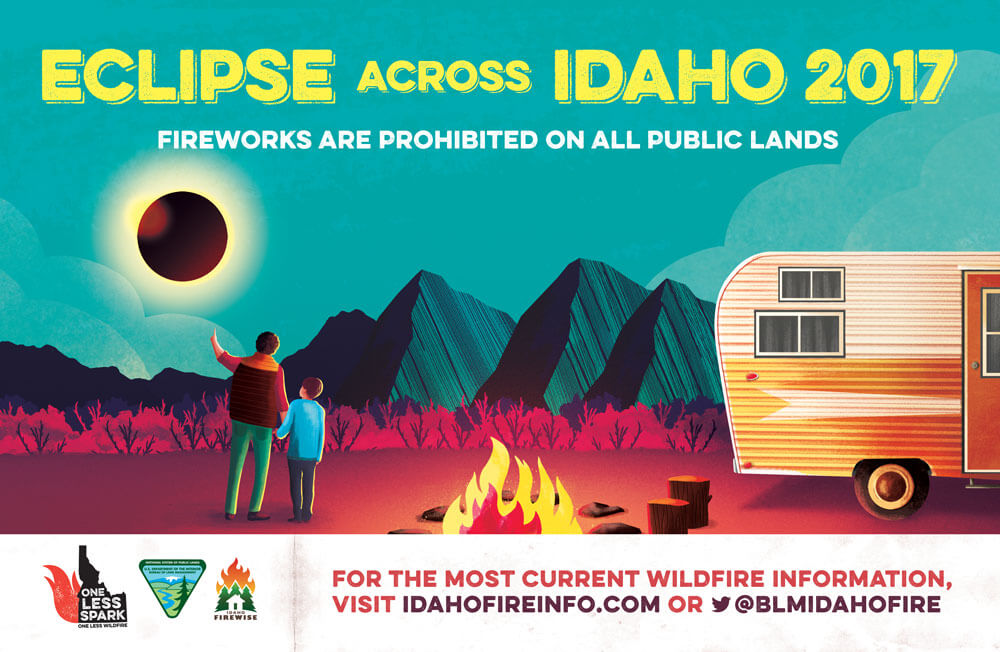 Fire is a real risk for this upcoming event. Here are some tips to help keep Idaho safe.
Keep your vehicle maintained, mufflers secure, tires inspected and safety chains crossed and off the ground. One spark from dragging metal can cause a wildfire.
Remember to extinguish your campfire every time you leave camp. Drown your fire with water, stir and feel it to ensure it is cold.
Don't drive or park on dry grass! Vehicle exhaust systems can reach up to 1,000 degrees and can easily start a wildfire in tall dry grasses.
Possession and discharge of fireworks are prohibited on public lands.
For wildfire and fire restriction information check www.idahofireinfo.com and follow @BLMidahofire on Twitter.
What to know if you live in Rexburg
Purchase supplies for the weekend before Friday, the 18th of August. Most travelers will be arriving on Friday-Sunday.
Fill up on Gas before the weekend to avoid lines and possible shortages.
Make sure you have enough cash. ATMs are limited in how much money they can carry.
Cellular networks will be strained. If you need data, try switching manually to the 3G network to avoid the over-burdened 4G/LTE Networks.
Purchase solar glasses before the weekend of the eclipse. Otherwise, there might be a shortage.
Most people are flying into Salt Lake City and traveling up from Utah. Expect traffic on the 15.
Prepare for strains on the power-infrastructure.
Prepare for massive amounts of traffic immeditely following the eclipse. Most travelers will probably try and leave shortly after the eclipse happens.
The Best Place To Buy Solar Eclipse Glasses
You'll need solar eclipse glasses to safely view a solar eclipse.  You could also use a welding mask, but for those of us that don't have a welding mask just lying around SolarGlasses2017.com has the best price to buy solar glasses and it's a local seller too so you'll be supporting the local economy while getting the best price possible.
Use This Coupon To Get An Additional 10% Off
If you go to SolarGlasses2017.com and use the coupon code "RexburgOnline" you'll get an additional 10%.  They also have bulk discounts.
Buy 100+ Eclipse Glasses and save 50%
SolarGlasses2017.com is currently selling purchases of solar eclipse glasses for 50% off when you buy 100 pairs or more.  That's $0.99 a piece.  If you buy 200 or more, they're just $0.89 per pair.
Special Tip: If you type the coupon code "RexburgOnline", you can buy 200 pairs at just $0.80 per pair (which is a better price than you'll find anywhere).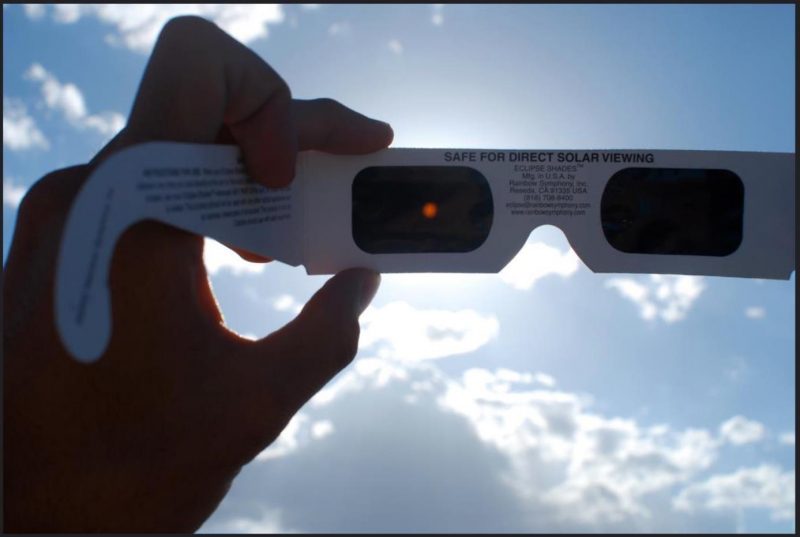 References:
This article can also be found on FunInRexburg.com
Local Guide