The Camas Wildlife Refuge is one of 500 national wildlife refuges in the country. Each year during spring and fall, the refuge is filled with migrating songbirds and waterfowls, with numbers peaking at 50,000.
About half of the refuge's 10,578 acres are lakes, ponds, and marshlands. The remainder consists of lush grass, sagebrush uplands, and meadows.
Fowl are not the only wildlife that frequent this refuge. Small mammals such as beavers, coyotes, and cottontails are often found roaming the fields. Five species of big game also inhabit the area: white-tailed deer, mule deer, pronghorn antelope, moose, and elk. Among the endangered and rare species, typical visitors are the bald eagle, peregrine falcon, and trumpeter swan. The natural sights are sure to please no matter what the age.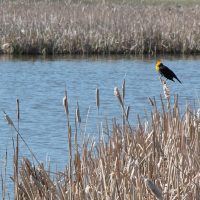 Tips For Visiting:
Drive only on designated roads, not in refuge farm fields.
Camping, open fires, and fireworks are prohibited.
Visitors may hike on roads year-round.
Hiking is also permitted off roads anytime EXCEPT March 1-July 15.
The accessible walking trail is open all year, however, be aware the trail is not maintained during the winter months.
Visitors are welcome to snowshoe or cross-country ski on the refuge. Use areas and dates are the same as those for hiking (see above).
Hunting is permitted only in designated areas. Please check with Refuge headquarters for current information. All hunters must carry a valid State hunting license plus all required State and Federal stamps, validations, and permits. Idaho Fish and Game Information
Directions From Rexburg ID:
Head west out of Rexburg on Main street which turns into Hwy 33.
Continue on ID-33 W to Jefferson County
Take exit 150 from I-15 N (26.8 miles)
Take old Hwy 91 and E. 2350 N/Refuge Rd to your destination.
Free
,
Hunting
,
Kid Friendly
,
Outdoor
,
Wetland