Craters of the Moon is a protected area which features are volcanic and represent one of the best-preserved  flood basalt areas in the continental United States.
The Visitor Center is near the monument's only entrance. Various displays and publications along with a short film about the geology of the area help to orient visitors. Ranger-led walks are available in summer and cover topics such as wildlife, flowers, plants, or geology. Self-guiding tours and displays are available year-round and are easily accessible from the Loop Drive.
The caves are open to visitors but flashlights are needed except in Indian Tunnel and some form of head protection is highly recommended when exploring any of the caves.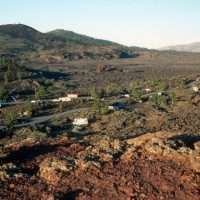 Tips For Visiting:
The caves are free to the public.
Some form of head protection is highly recommended when exploring any of the caves.
Flashlights are highly recommended
Directions From Rexburg:
Head

north

on

S 3rd W

toward

W 1st S

Follow

ID-33 W

and

US-20 W

/

US-26 W

/

US-93 S

to

N Laidlaw Park Rd

in

Blaine County

Turn

left

onto

ID-33 W

Turn

right

onto

US-20 W

/

US-26 W

Turn

left

onto

2930 W

/

3100 N

Turn

right

onto

3100 N

Turn

left

onto

US-20 W

/

US-26 W

/

US-93 S

Continue on

N Laidlaw Park Rd

to your destination
Caves
,
Free
,
Outdoors
,
Ranger-led walks
,
Self-Guided Trails
,
Visitors Center