Wind Caves Idaho
Beautiful scenery, a pleasant hike, and a rewarding cave all describe the moderate hike to the Wind Caves Idaho in Darby Canyon. In the summertime, you will see patches of snow while experiencing lush vegetation and occasional wildlife.  Some of the views are so unique to your visit it will be well worth the climb. With a hike of about 3.5 miles each way and only a thousand foot elevation gain, the Wind Cave can be done in just a little over two hours. But once you arrive, you may spend hours crawling through the Wind Cave, which goes from hundreds of feet high at the entrance to merely a crawlspace farther in or you may enjoy playing in the falls or brooks. This hike has repeatedly been named as one of the best in the country – don't miss out!
As the Darby Wind Caves Idaho are frequented often you may discover many people on the trail wanting to check out these amazing Wind Caves.  You will discover very quickly all that there is to do and explore once you reach the Wind Caves Idaho, from openings that are so small that you have to crawl, yikes! To openings that are hundreds of feet high making you want to climb high to experience the amazing views.  If you haven't been out to visit all that Idaho has to offer yet, it's not too late.  Wind Caves Idaho in Darby is a must see that will make you want to come back another day.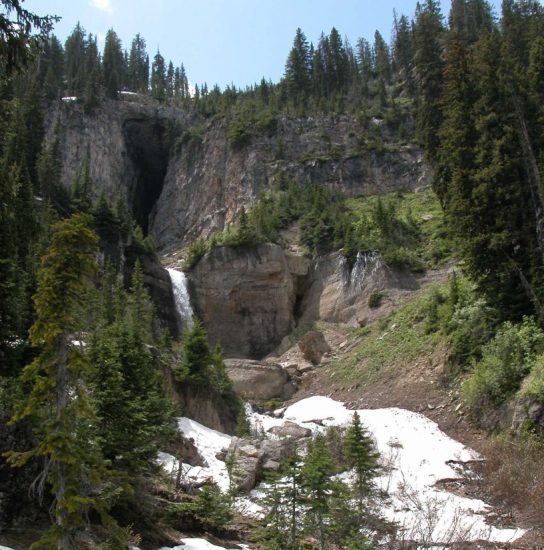 Tips for Visiting:
Hike Length Round-trip: 5.2 miles
Elevation gain: 1,800 feet
Highest Point Elevation 8,940 feet
Level of Difficulty: Medium
Restriction: None
Bring water and wear good shoes
A flashlight for the cave is a definite must.
Directions From Rexburg:
Take Highway 33 heading east to the town of Driggs Idaho.
From Driggs, drive south on Highway 33.
Three miles south of town, turn east onto 3000 South.
Drive 3.2 miles and turn right at the T-intersection.
Follow the signs to the South Darby trailhead.
As you drive up Darby Canyon, you must continue past the Girls Camp.
Moderately strenuous
,
scenic
,
Teton Valley
,
Waterfalls
,
Wildflowers