Goldbug Hot Springs
The Goldbug Hot Springs are incredibly beautiful and amazing. At the Springs you can enjoy the majestic view of the mountains while soaking in the Hot Springs above. A perfect combination of relaxation and beauty!
The drive to the Goldbug Hot Springs will take approximately 2 hours and 45 minutes, then you will want to add another 1 to 1 1/2 hours for the hike up. With this being said, though, it will be one of those experiences that will be well worth your time and will be a memory that you will never forget!
The Springs themselves are located about 15 minutes south of Salmon, Idaho. The head of the trail that will take you up to the Hot Springs will begin just off of Highway 93. The trail itself will be about a two- mile uphill hike with some flatter areas around the beginning and middle sections of the trail and some steeper parts towards the top. Overall a moderately difficult hike but totally worth it; even the trail leading up to the Springs is beautiful!
The Springs themselves consist of about five to six large shallow pools all at different water temperatures,  so you can find the one that's right for you! In between and around these hot pools are beautiful waterfalls overlooking the mountains. This is a popular location for many people, but the pools are separated up the stream which allows for some privacy. One of the best times to go would be the later afternoon as the sun sets right behind the mountains. Enjoy!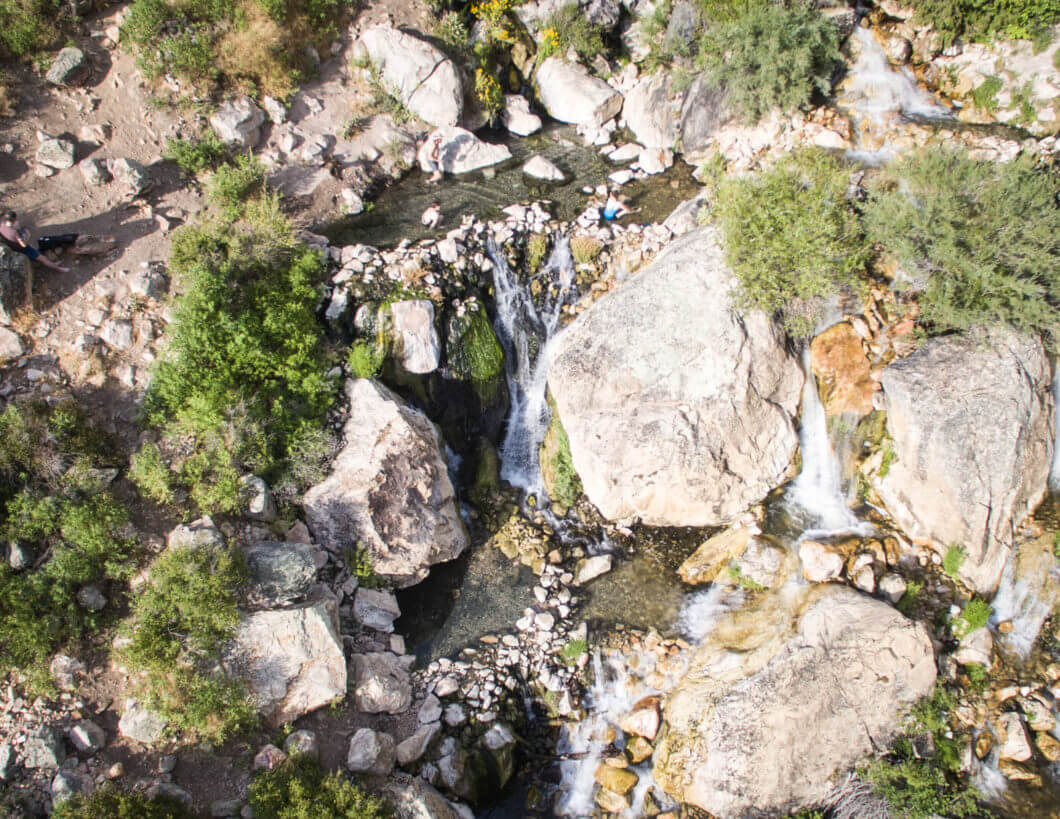 Features:
Natural Hot Springs
A moderately difficult hike is involved
Popular site for skinny dippers
A true geothermal gem
Directions:
Leave Rexburg, heading West on Main street, as if you were driving to R-Mountain or Beaver Dick Park (Highway 33).
Take the exit to the right onto Highway 28. You'll stay on this road for about 180 miles.
Coming into the small town of Salmon, ID, you'll come to a four-way stop with some gas stations and Burger King on your right side. Turn left onto Highway 93.
Approximately 22 miles down the road, you'll turn left onto "Warm Springs Road". If I remember correctly, there isn't a street sign, but it's soon after mile marker 282.
Drive until the end of the road, where it will dead end. Get out, and begin your hike!
Kid Friendly
,
moderate hike
,
scenic
,
Waterfalls