The Idaho Falls Temple of The Church of Jesus Christ of Latter-Day Saints is located on a beautiful spot of land overlooking the falls of the Snake River. The land was donated by the Idaho Falls Chamber of Commerce. It was completed in 1945.
The cornerstone for the Idaho Falls Temple was laid on October 19, 1940. In March 1937 the First Presidency of The Church of Jesus Christ of Latter Day Saints had announced that a temple was planned to be built in Idaho and even as early as 1918 plans for this temple had been discussed.
World War II caused construction work on meeting houses and also the Idaho Falls Temple to be slowed down due to a shortage of workers and building materials. Church members in a twenty-one stake area helped by making financial donations to help with the costs of temple construction so it could be completed. On September 23, 1945, the temple was dedicated by Pres. George Albert Smith, who was President of The Church of Jesus Christ of Latter-day Saints at the time.
This inspiring, one-towered white temple on the banks of the majestic Snake River was faced on the outside walls with white cast stone designed to sparkle with light. In 1983 a beautiful statue of the Angel Moroni was placed on top of the Idaho Falls Temple which is viewable from a long distance. This "Temple by the River" is truly a place of beauty and serenity.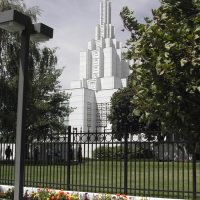 Tips For Visiting:
Public is welcome to tour the Visitor Center
A Temple Recommend is required to enter.
Temple and temple grounds are closed on Sunday
Directions From Rexburg:
Get on

US-20 W

from

ID-33 W

Follow

US-20 W

to

Fremont Ave

in

Idaho Falls

. Take the exit toward

Riverside Dr

/

City Center

from

US-20 W

Turn

left

onto

Fremont Ave

(signs for 

Riverside Dr

)

Continue straight onto

Riverside Dr

Turn

left

onto

Temple Pl

Turn

right

onto

I St

Slight

right

onto

Memorial Dr
Family Friendly
,
Free
,
LDS Temple
,
Vistor Center