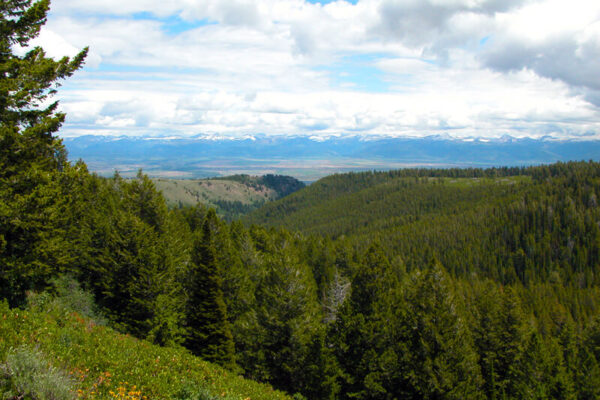 Packsaddle Lake is located in the Big Hole Mountains on the western side of Teton Valley. The drive to the Packsaddle Lake trailhead and the hike itself provides unparalleled panoramic views of the Teton mountain range.
Do not be in such a hurry to start the hike that you forget to look east to the Teton mountain range.
The Trail
From the gate, the trail follows the jeep trail. The condition of this road varies greatly. At times, a passenger car could ascend the road. At other times,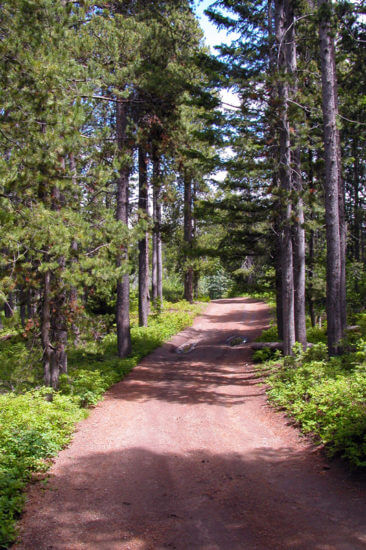 erosion and four wheel drive vehicles tear up the road and make it difficult for even the hardiest vehicles.
For those on foot, the trail delightfully winds through the trees, passing through a few meadows. Since it is a road, hikers can often hike three or four abreast with ease. After about 2 miles, the trail comes to a large open area with a view of the lake to the south and the Tetons to the east.
The half-mile trail descending to the lake is steep and slippery. While much narrower than the first part of the trail, ATVs have widened it considerably. At the lake, there are some good sized campgrounds on the east side of the lake. The western shore retails its pristine character.
Things to know about Packsaddle Lake:
Foot Hills West of Driggs ID
5 Miles round trip
960 feet elevation gain
7,760 feet at highest point
4.5 hours hiking time
Easy to Moderate Hike
Directions from Rexburg to Packsaddle Lake:
Take Highway 20 northeast out of Rexburg.
Near Sugar City, take Highway 33 east towards Driggs for about 25 miles.
As you start to enter and descend into Teton Valley leave Highway 33 by turning right at the Ehco Ranch sign. (See below left)


---

---

Follow the gravel road even though it becomes more and more rustic for 5 miles.
You will come to a place where the road makes a 90-degree turn toward the east. (See above right)
At the turn, there are some corals and to the right is a road heading into the trees with a sign. This is the trailhead and where you can park your car. Do not block the gate.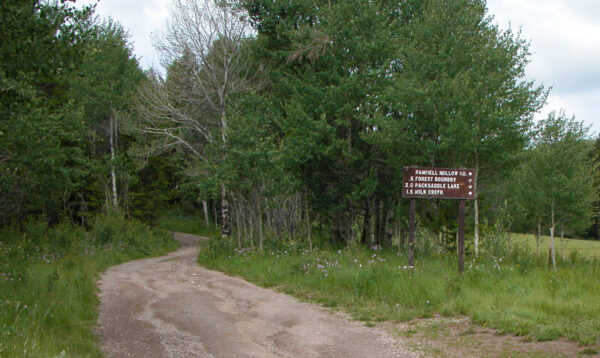 Camping
,
Fishing
,
moderate hike
,
Rope Swing
,
scenic
,
Swimming
,
Wildflowers