The BYU-I Horticulture Demonstration Gardens serve as a unique "laboratory" for students of the Landscape Horticulture department. The Gardens are open to the public year-round until dark. There are over 750 varieties of annuals and 200 varieties of perennials as well as trees and shrubs. The Gardens host a variety of summer activities including wedding receptions and socials. There are also vegetables and orchards featuring many varieties of apple trees.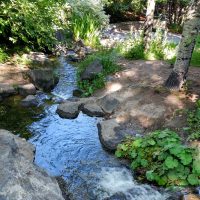 Tips For Visiting:
Do not pick the flowers
The Gazebo and Picnic Pavilion may be reserved for wedding receptions, company parties, reunions and other group events.
Please contact the BYU Idaho Special Events at 208 496-3121 for availability and cost information.
Kid Friendly
,
Outdoors
,
scenic