Coffee Pot Rapids Trail hike along the Henry's Fork of the Snake River samples the birds and wildlife of the river in a tranquil stretch. The river flows so gently here that algae make the water green. Because the trail is shaded, the hike is pleasant on a hot day. The destination, Coffee Pot Rapids, sprays white water in a dark, narrow section of the canyon.  Along the trail is a variety of shrubs and flowers with great views of the Henry's Fork. The rapids came by their name many years ago when fur trapper, rancher, and scout, George Rea was canoeing along the Henry's Fork. After several miles of calm water, he came to an end in the river and a set of nasty water rapid boulders rushed out ahead of him. His canoe overturned and all he managed to salvage was his coffee pot.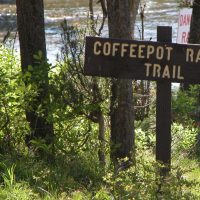 Tips For Visiting Coffee Pot Rapids Trail:
Hiker and fisherman parking is available at the campground entrance.
The trail begins at the west end of Coffee Pot Rapids campground loop. The trail is 2.2 miles in length, is a non-motorized trail that follows the Henry's Fork of the Snake River.
At 1 mile in an open area, an old road closed to motor vehicles comes in from the south.
Watch for roots and rocks from here on.
Next, as the trail climbs a wooded hillside, a stream in willows, talus and rock knolls appear on the far side of the river.
At 1.5 miles the channel narrows and begins to cascade between gray boulders.
Side paths lead to fishing rocks and the trail itself descends to the water.
Directions From Rexburg:
O

n U.S. 20 two miles north of Island Park, turn left (west) on the Yale-Kilgore Road.
At 1.2 miles turn right (north) on Forest Road 130 and go 3.5 miles to Upper Coffee Pot Campground.
Park at the fisherman's parking lot just outside the campground.
Camping
,
Family Fun
,
Fishing
,
hiking
,
scenic
,
Wildflowers