Located about 60 miles southeast of Rexburg, the Upper Palisade Lake and Lower  Palisade Lake are very scenic and are accessible by hiking trails for horse or foot traffic only.  The lakes were formed when landslides came down the mountains many years ago and blocked the creek. There are plenty of things to do up by the lake, including wading in the water and fishing.
Upper Palisade Lake
The upper lake is 6.2 miles and it is here where the Palisades Creek Trail begins. The Upper Palisades Lake has better camping because sites at the lower lake fill up sooner. The six-mile trail is in good condition and can be used for hikers, backpackers or horses. Some moose can be seen in the area.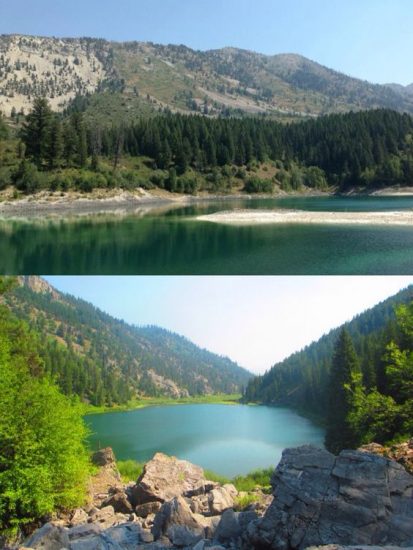 Lower Palisade Lake
The Lower Palisades Lake is much smaller than the Upper Palisades, which is about two miles further up the trail. The lower lake is around 5.8 miles one way. Expect your trip to the lakes to be a full-day activity.
Features:
Canyon is forested with fir, willows, and aspen.
Waterfalls
Wildlife
Directions From Rexburg:
Take

S Yellowstone Hwy

,

S 2000 W

,

W 7800 S

, 

Archer Rd

and

Heise Rd

/

Poplar Loop

to

US-26 E

in 

Bonneville County (

30 min)

Turn

left

onto

US-26 E (

32 min)

Drive to

Palisades Creek Rd
Camping
,
Family Fun
,
Free
,
hiking
,
Horseback Riding
,
restrooms