Black Canyon to Big Burns is a 12.8 mile moderately trafficked loop trail located near Idaho Falls, ID that features a river and is rated as moderate. The trail is primarily used for hiking, horses, and backpacking and is accessible from June until September. Dogs and horses are also able to use this trail.
The South Fork of the Snake River, particularly in the vicinity of Big Burns Creek and upstream, provides extraordinary wildlife habitat. Moose, elk, deer, bear, bighorn-sheep and all types of waterfowl frequent the area. It's also a nesting area for bald and golden eagles. Thousands of fishers and hunters boat the South Fork each year. Here, between Big Burns and Black Canyons, dozens of fertile and slightly warm springs emerge just below the dirt road, bursting into riparian ponds brimming with wildlife.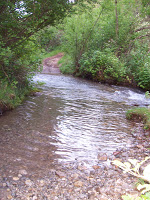 Tips For Visiting:
Difficulty: moderate
2496 feet
12.8 miles
Wildlife
Wildflowers
Directions From Rexburg:
Head south on US 20 from Rexburg towards Idaho Falls.

Traveling east on US Highway 26 from Idaho Falls, proceed 11 miles past the junction with State Highway 43 and bear left (north) onto the Kelly Canyon Recreation 

Area Road.

Proceed on this road 2 miles to a Y intersection and turn right on County Road 100 North.

After crossing the South Fork of the Snake River, bear right on Heise Road and continue 2 miles to another fork in the road.

Follow the right gravel road (which turns into Forest Road 206) 16.1 miles to the Black Canyon Trailhead.