Floating the Warm Slough
People wait all year for the weather to warm up in Rexburg to float the river and the Warm Slough is the perfect place! Just as the name implies, the water is actually warm and has a slow, gentle current. The float can take around 45 minutes to 1.5 hours, depending on the speed of the current. The river has a few curves and, at the end, it almost makes a 'U'.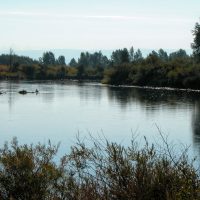 You can park two cars at each end of the river (The end point is about a mile down from the starting point). The starting point is a ten to fifteen-minute walk from the end. If you prefer, you can just park at the starting point and walk back after floating the river.
You will see a sandy area where you get out of the Slough. At times during the summer, the water gets shallow enough that you may have to get up and walk, but by mid-summer, the water level should be high enough that you shouldn't have to. The area has a few campsites with restrooms and fire pits.
Features:
Campsites
Bathrooms
Firepits
Things to Bring:
Life jacket
Tube or floaties
Snacks
Towel
Jacket (The water is colder than you would expect)
Waterbottle
Sunscreen
Bug Spray
Directions From Rexburg:
Head West on Main Street, as if driving to the 'R' Mountain
From the last stoplight on main street, you will turn right in 11 miles
Turn onto 3000 West
Follow this road for 51 miles passing three stop signs
Turn left onto 4000 North. You will see a sign that says "Warm Slough – 2.0 miles
In a little less than 2/10 of a miles on the left, turn in and start your float
If you enjoyed this check out Monkey Rock!
Family Friendly
,
Fire Ring
,
Fishing
,
Near Water
,
restrooms
,
Swimming
,
Tubing
,
Wildlife Viewing